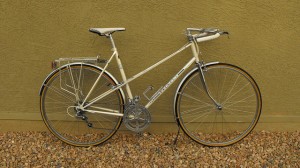 Well here I am.  Back in South Florida after a week's FEMA training in Charleston, SC standing in the middle of my daughter's living room thinking as I glance around: I'm raring to go.  I'm finally ready to figure out where the hell I belong in this tiny, one-bedroom apartment amongst all this other "stuff."
Now when I say "stuff" I'm referring to the collection of furniture that normally occupies the space beside these newly, established accoutrements of baby gear, of sloping mountains of boxes with the word "Pampers" stamped in, lying in wait to wrap themselves around some, cute little bottom, and oh yes…must not forget the remnants of my office that up until five weeks ago took up my entire second bedroom and now appears to be stuffed in a corner, gathering dare I say it…dust.
Five weeks?  Is that all it's been since I boarded the plane at LAX?  Hmph…it feels like yesterday.  More than likely I suppose that's because every day has been this whirlwind of non-stop activity for Carly and myself: shopping, eating, shopping, cleaning, re-arranging her 2×4 closet like a contortionist in order to create more room for the one third of my wardrobe that I didn't donate to Goodwill.
Mind you I'm not complaining. Not when I realize I'm not the only one here inconvenienced as well as sacrificing their sense of independence for the sake of this baby about to be born.  Oh no, I wouldn't dare do that.  Okay…so I have myself a good, little cry every so often.
Who wouldn't?
It's hard to come back to a life you left behind.  A life that had run its course and the possibility of drowning in its monotony was more than a distinct possibility.  But as the landscape changes with time, so do you.  So must you.
I believe that.  How else do we survive all those curveballs?  Challenging ourselves is as much a part of our personal growth as it is accepting the good right there along with the bad.  These are the things that go hand in hand, like faith.  I'm not talking a spiritual faith but an intuitive knowing that in the end things have a way of always working themselves out.  That's my mantra.  That's what I keep telling myself every morning as I drag my body off this couch, as I grabble with the prospect of facing yet another day in alien skin and finally imagining what it would feel like to plop back into the saddle.
Not the old one, of course.  No, no…not that!  What I'm looking for now is something brand, spanking new.  Something that smells good, feels good and will offer me a whole, different perspective on life so I will painlessly forget about the humdrum reality of South Florida living, the horrid humidity, the ever-presently, dismal raincloud hovering overhead and get back to what I know, what I love.  Writing.
I'm sure once I can do that, I can do anything.  And the rest will be cake!
Now…any thoughts on where the heck in all this mess I might've put my laptop?  How about my shoes?
No Comments
-
Leave a Comment