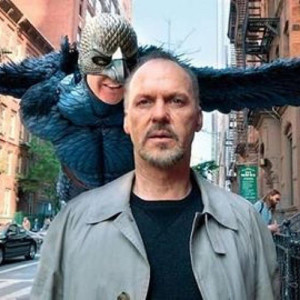 When my friend Marcelle had mentioned she was interested in seeing "Birdman" I admit I was unfamiliar with the movie other than Michael Keaton was nominated for a Golden Globe for it.  I've always been a fan of his.  Loved him in Beetlejuice, Jack Frost, Batman (still the best Batman…sorry Christian, sorry George and soon to be sorry Ben).  So with the movie choices out there somewhat slim-to-none (in my opinion), I found myself trolling over to watch a few trailers, then very much interested, searched for a theatre nearby.
Which was a challenge in itself.  Though the movie was released in October, it doesn't have any action-packed scenes or hard-core sex, so as you can imagine I had to travel a bit if I really wanted to see it.
And I'm glad I did.
With a strong all-star cast flanking him: Ed Norton, Emma Stone, Naomi Watts, Zach Galifianakis, Keaton at 63,  still quirky and handsome in some off-beat kind of way, delivers a superlative performance in this noir comedy playing the lead character, Riggan Thomson, a washed-up movie super-hero banking his last dollar on a comeback via Broadway.  A feat, many believe, equivalent to winning the Olympic gold!
As a New Yorker, I was immersed in how well the city landscape was captured on film.  So much so, I wanted to hop on the next plane and go back.  For a visit.  To catch a show, to stand at the top of the Empire State Building, get an eggroll, cannoli and slice of pizza.  All those things that stick to you no matter where you are.
This is a movie about reflection, about life, about missing the boat.  No, it isn't for everyone. A few old ladies walked out in the middle (right after the vagina joke, I think).  The lines were at times morbid, farcical and even taboo.  But when served up properly, as I believe they were here, they're funny and you can't help but laugh.  Because as we all know, life is hard.   And if you don't know how to stare it in the face and laugh at it by now, you never will.
Well, that's my opinion anyway.  Check it out for yourself.
Photo credit:  Videogamedemons on Flickr
No Comments
-
Leave a Comment