Well, not in my book anyway.
I've always believed that while the people we choose to represent us might not always share our views, they would hold themselves up to a higher standard. It's part of the job. Isn't it? To look a certain way, to sound a certain way when you stand in front of the leaders of the world. And if not, that's what speech writers are for.
Donald Trump is not my favorite individual. I didn't like the way he dumped Ivanna for Marla Maples. I abhorred his less than regal feud with Rosie O'Donnell, his reality TV show and the fact that he's now my president. But he is my president. And there's not a blessed thing I can do about it.
Look, I wish to preface that this is not me ranting on a soap box about all that's wrong with the man. I don't write political trash pieces. I leave that to others. No, this is me simply, utterly gobsmacked looking at things from a dignitary standpoint. Wondering how is it that anyone can find themselves standing at Yad Vashem, Israel's main Holocaust memorial and museum, and write this in the guestbook:
  It is a great honor to be here with all of my friends. So amazing and will never forget!
Okay. So he's not a brainiac. It's my understanding that our president rarely read books and prefers watching television. And his bestseller, The Art of the Deal, was penned by a ghostwriter.
But still. That's not an excuse. That doesn't explain why he didn't tap into his speech writers. Were they too busy before he left to craft something perhaps a bit more empathetic? More suitable to the occasion? More worldly? More presidential? And less like the high school dribble it is.
Not only am I beyond embarrassed and upset by this, but I suspect Melania is as well.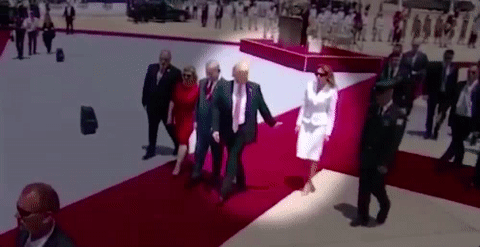 It comes down to this. Our words, our voices matter. They are our most precious tools. They are the very things that make us stand apart as well as unite us. They have the chance to do something miraculous when our actions sometimes cannot. As a Jew and a woman struggling against those societal, cultural pressures that continue to persist, it is what I tell my daughter, my son, those words of what I feel and think, that reflect who I am in this world, that will remain long after I'm gone. And as a writer where words are my God, I struggle here too. Struggle to find just the right one. Then another and another and pray that when strung together these letters, vowels and consonants mean something before they take flight. Scorch the sky. Also long after I'm gone.
It's often been said that a picture says a thousand words. So here's my visual 411 … for what it's worth.
(Barack Obama's note at Yad Vashem)
(Hillary Clinton's note at Yad Vashem)
(Laura Bush's note at Yad Vashem)
Need I say more?
2 Comments
-
Leave a Comment