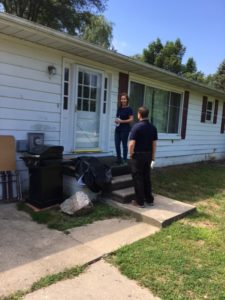 Hurricane. Tornado. Flooding.
When I see these buzz words, the message and my response are always the same: People need help. I must go.
There I wait on pins and needles waiting for the call. A storm has hit and I may or may not be deployed. But I have to be ready just in case. I make sure my personal life is button-downed. All the loose ends, the things that need my attention—laundry done, boots cleaned, plenty of Ziploc bags on hand, my prescriptions filled, roots dyed—are tended to. Because if I go, I go for months at a time.
I am one of the many faces of FEMA. And for me it's not just a job, it's a calling that makes me whole. It's not anything glorious as most folks think. Yes, I do get to travel, but when you're working six days a week, sometimes seven, with ten-hour shifts, trust me, the last thing on your mind at the end of the day is sightseeing. Most of the places I go to anyway are not necessarily on my bucket list. I'm just happy there's a Walmart nearby.
On Friday night at ten p.m. with winds up to 130 m.p.h. Hurricane Harvey slammed down on southeast Texas between Port Arkansas and Port O'Connor, packing enough fury and might to destroy everything in its path.
And the developments so far tell the story:
Two dead with the death toll expected to rise.
Dozens of injuries. This too expected to rise.
1000 rescued from homes.
32 rescued by the Coast Guard in waters.
24 inches of rain flooding the Houston area.
Numerous tornadoes already touching down.
We know this type of devastation. We know how cruel Mother Nature can be as she takes out her anger in broad swaths, uprooting trees, smashing buildings, snapping up flagpoles and signs from their roots like toothpicks. We've seen it. And most of us have also experienced it to one degree of another at some time in our lifetime to know that the worst of it occurs in the aftermath.
"We have nowhere to go." Jake Lewis evacuated to a Houston hotel only to wake up to a flooded room and his Chevy Silverado outside practically under water.
Yes, Harvey did weaken upon landfall. Was downgraded to a tropical storm. But with all the predicted rain, it is still "turning into a deadly inland event," FEMA administrator Brock Long tweeted.
An event, as human beings, which has sparked us collectively into action.
FEMA mobilized quickly, sending the first of many teams into Texas even before the storm touched down. American Red Cross, always a magnificent voluntary partner, has numerous mass care shelters in place across Texas and Louisiana to take care of the survivors. Additionally, after experiencing the likes of Hurricane Sandy, New York City and Florida has also sent emergency teams and equipment into the region to help.
This morning, as I write down all these thoughts, I'm deployed in Michigan assisting survivors here with a different disaster. And while my whole heart is devoted to them, a part of me is watching the news, seeing Harvey unfold, wondering what's next on my agenda after I leave here. More than likely I'll be heading to Texas. When a disaster rises to this level, as a person, as a FEMA person, my gut reaction is, I want to be there. In the thick of things. Doing my part for the people of Texas.
Because right now they need all the help and kindness we can give them. Even if it's a small thing. In my world, a mitzvah is a mitzvah. That's all that matters. God doesn't judge.
So if you too want to do your part, you can donate to the American Red Cross by calling 800-435-7669, text REDCROSS to 90999 to give $10 or go to their website www.redcross.org.
To find a sheltering location, call 800-REDCROSS or click here.
To register for FEMA disaster assistance, call 800-621-3362, or go online disasterassistance.gov
Photo credit: Jeff Piotrowski