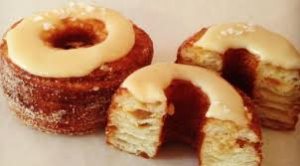 I feel quite confident that most of us by now are more than familiar, or somewhat familiar, with this pastry creation Chef Dominique Ansel whipped up in his Soho bakery in 2013. And while he has since trademarked the name Cronut, as a baker I'm confident in stating that the blending together of croissant and donut dough started long before Chef Ansel introduced his version to the world.
Anyway, regardless of who was first, the Cronut craze took over in a big way and from there highlighted for all of us what's possible when so inspired.  A few shining examples of this are:
Dookie — Donut + Cookie; Wafklavie — Waffle + Baklava; Dangel —  Danish + Bagel; Pake — Pie + Cake
I know…some of these concoctions seem absolutely crazy to me too.   But that's what the pastry world is all about. A crazy, passionate embrace of mixing and matching, dazzling and wowing.  A collective effort that has been going on for quite some time apparently.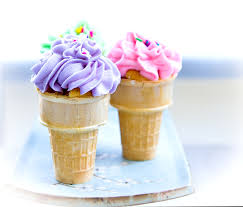 Cupcake Cone (1957) – Origin unknown, and from the look of it, I can't help but imagine a better way to eliminate those paper wrappers as well as happily licking your way to the bottom.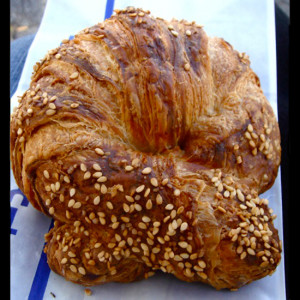 Pretzel Croissant (1997) – From the little information I was able to gather, it seems this hybrid came into existence by mistake. Which of course is usually how most great things happen. By accident. By stumbling into it. And it also seems that The City Bakery in New York City realized rather quickly what a cult-favorite they had on their hands.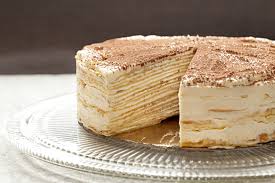 Crepe Cake (2004) – Decadent is the only word that comes to my mind when I see Lady M. Mille's signature, more-than-a-mouthful layered masterpiece. When I'm baking, this most assuredly would not be my first choice in trying to replicate. However when I'm simply buying and eating, that's a different story.
                                                                                                                                                                                                                                                                                        Cake Pop (2008) – Cake on a stick…what a no-brainer! I personally loved Angie Dudley's idea because it was just a taste of something, something hopefully scrumptious. And for some of us, just one of a good thing is enough, while for others, one will never be enough.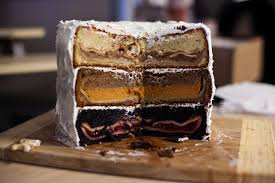 Cherpumple (2009) – In all honesty, I'd never heard of this dessert—a stacking of three pies in one (apple, pumpkin and cherry)—before digging through the culinary archives. Created by Charles Phoenix as a joke supposedly, this somehow evolved into the turdunken (another hybrid, turkey + chicken + duck) of the pastry world. How, I don't know. Perhaps it tastes better than it looks.
Anyway, I could go on and on with this list—as fascinating as it is.   But I won't bore you further because I'd much prefer to highlight the newest wonder-creation: The Cruffin.
Though it's not actually a combination of croissant dough and muffin batter. It's simply the croissant dough baked in a muffin tin, giving it its shape. You're probably thinking okay no big deal, right?  Think again.  Because Mr. Holmes Bakehouse in San Francisco is making a killing with this gimmicky creation. Stuffing it, rolling it, topping it with every cream, jam, nut, sugar imaginable.
Trust me on this!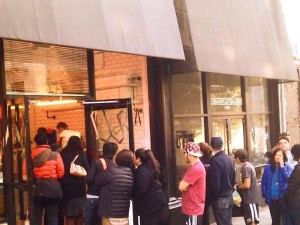 Lining up out the door?  Seriously?
I know first-hand just how far people will go when they need their sugar fix.  Because I'm one of those people.
So, if you're in the area and want to check it out, I suggest you definitely get there early as they sell out quickly. But if you're like me and live a few thousand miles away and you've just spent the past several hours staring at photos of it online and your mouth is beyond the drooling stage, you might want to try and make the Cruffin yourself.
I'm not suggesting you make a croissant dough from scratch.   I am though telling you there's an easier way. You can of course do the dough if you've got the time and the know-how. Personally I'm not exactly a fan of anything that requires too much time in the kitchen. And working with yeast products falls under that umbrella!
I simply went to the supermarket and purchased Pillsbury Grand Biscuits since that dough is the closest thing I could find which has the flaky texture required. And no, the crescent rolls are not croissants-that dough is much denser. Also what I used as fillings, toppings were my personal preferences and things I already had in the house. That and the muffin tin, which was of the jumbo size. I come from the go-big or go-home line of thinkers!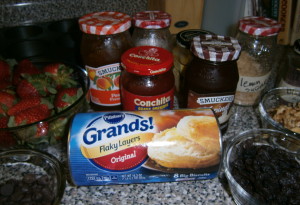 Here's my easy-peasy recipe:
Preheat oven 350 ° — 1 pkg. Pillsbury Grand Flaky Original Biscuits (8) — 1 stick unsalted butter, melted —½ cup granulated sugar —1 tsp. cinnamon
Fillings/Toppings: Dickinson's Lemon Curd, Alpina Dulce de Leche spread, Conchita Guava Preserves, hot fudge sauce, lemon, strawberries, chopped walnuts, lemon
Pull apart the biscuits.  There are eight (8).
Mix sugar and cinnamon in bowl large enough to roll baked biscuits in.
Melted butter should also be in bowl large enough to roll baked biscuits in.
Grease four (4) of the tins if you're using jumbo tins.  If you're using smaller tins, cut biscuits in half or cut down to size of tins.
Lay one biscuit in bottom of tin.  Press down gently to make sure it's at the bottom.
Then press up to form sides and small well to put filling in.  And if you're not putting in a filling don't make a well.  I used a heaping teaspoon of preserves.
Next lay the next biscuit on top of that.
Brush tops with melted butter.
Bake as directed for 15 minutes or until tops are a golden brown.
Gently using tip of knife, pop the biscuits out onto a cooling rack.
One at a time, delicately roll the biscuit in melted butter then roll in cinnamon sugar.
These were my fillings and toppers:   Guava-no topping.   Perfect just as is!  Lemon curd-topped with lemon zest and lemon sugar.  Dulce de leche-topped with small dollop of same plus a few strawberry slices.
And the outcome to all this hard work (ahem <g>) …   Wa-la! I give you an original creation. The Buffin.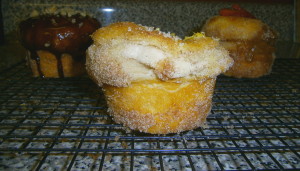 How does it taste? (more smiles here).  Yum.  Absolutely yum.
I hope you try this recipe and add in your own creative sense of adventure.  Because that's what this is all about.  New things and new journeys down roads we might never have traveled.
Peace. Love.  And most definitely happy eating!
3 Comments